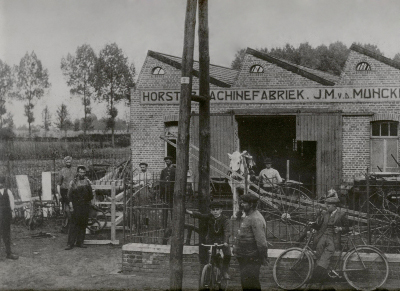 About us – Who we are
The van den Munckhof family has been attending to the construction of agricultural tools since the twelfth century. In 1884 it was 'Smitten' Ties van den Munckhof, who founded a factory for agricultural machinery. Later in the thirties of the twentieth century his sons began to develop facilities for the irrigation and sprinkling of fields.
The photograph shows the 'machine factory van den Munckhof' in 1908. In the foreground you can see 'Smitten Ties'. He is the grandfather of today's owner Jan van den Munckhof, who has been directing production since 1978.
---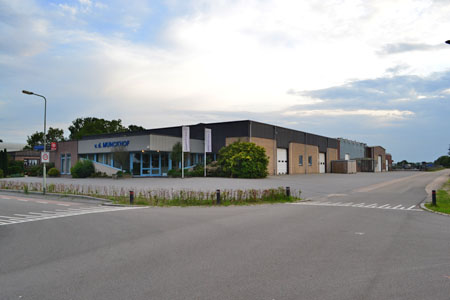 Today Munckhofhorst BV is a medium-sized concern, which specializes in the installation of irrigation systems and also deals with mechanisation and automation in agriculture and horticulture. The firm is located in Horst on the Meuse (Limburg/Netherland).
The Munckhofhorst BV product range comprises:
construction of made-to measure water installations for horticulture, always using the most modern technology
completely automated installation on the basis of modern industrial control systems as well as the visualization per computer, so that it is simple to operate and install
construction of telescope and other sprinkler systems, which can be easily controlled by our sprinkler automation
water installations for abroad, which can be delivered in modular design all over the world. We have already supplied customers in Russia, the Ukraine and Moldavia.
Why Munckhofhorst?
Our motto is: Quality is not just a matter of chance. In more than eight centuries we have developed a specific affinity to firms and conceptual solutions in agriculture and horticulture. Every customer can obtain his own specifically required solution.